From 29 November to 1 December 2017 three colleagues from GreenDelta attended the second consortium meeting of the ITERAMS project in Barcelona. While the first meeting in June in Kevitsa, Finland served to get to know each other, define the work approach and milestones and get the project started, in Barcelona first sampling results were already presented and discussed.
ITERAMS is a H2020 project funded by the EU. An international consortium of 16 members – from industry to research and academic institutes to consulting firms to mining companies – evaluates and validates a new, integrated mineral technology for more sustainable raw material supply. A closed water circulation system – in combination with a more efficient recovery of additional valuable constituents – is the focus of the analysis. The ITERAMS water and waste efficiency concepts will be validated at test mine sites processing sulphide ores in Finland, in Portugal and in South Africa.
Within the project, GreenDelta is leading the work package on sustainability. We assess the environmental and social impacts as well as cost effects of the technology. In Barcelona, a causal loop diagram showing interrelations between different scenarios, process steps, risks and impacts, was introduced and discussed. First screening results regarding potential social and environmental impacts and hotspots were presented. Potential risks might be related, e.g. to a higher energy demand for closing the water cycle and for water treatment. Positive effects are expected especially regarding water efficiency which in turn would influence the ecological variety around the mines, the quality of life of the local communities and, hence, increase the public acceptance the local mining industry.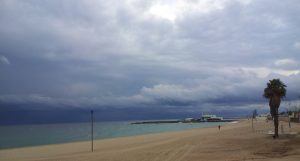 While the picture is shows Barcelona´s beach on a stormy day, we also enjoyed spring-like sun while it was snowing back in Berlin.